08-08 "On the Road" with Luke Bogacki
Alright guys, time for the second half of this column. When I left off last time, I was happy to be headed home from a 3-week roadie that ended at Indianapolis. The joy of Woodville was short-lived, however, as I ventured West the following Thursday. That afternoon, I made a quick stop at Holly Springs Motorsports.
The reason for that stop was twofold. For starters, Tony Newberry, the lucky raffle winner, was meeting me there to pick up his prize, the 2007 American Dragster that I had raced for the last year and a half. Secondly, Bryan and the guys at BTE had a couple converters they wanted me to test in the new dragster, and we had a couple things to try on the Stock Eliminator machine as well. Holly Springs is an awesome facility, for those of you who haven't had a chance to attend. It's probably the nicest 1/8th mile facility I've ever been to, and that's saying a lot the way I rack up miles on my old Ford pickup.
Testing went well, and early Friday morning I set out for East Texas and Pine Valley Raceway Park for an IHRA Pro-Am event. The event was a forgettable one for me. I lost second round in Quick Rod each day, and advanced to the semi-finals on both days in Stock. As bad as our Stock season had been to that point, a pair of semi-final finishes was a sign that we are headed in the right direction, but losses in the semi's are a financial nightmare. Semi-finalists earned $120. With c ontingency involved, I was looking at $3500 to win, and around $1500 to runner-up. With $5-a-gallon diesel, that's a big swing and a hard pill to swallow. I drove pretty well all weekend, with the exception of a bad light in the Saturday semi-final opposite Cool Simoneaux, and a bad finish line decision in Quick Rod on Sunday. In Sunday's Stock semi I made a pretty good run beside Jerry Emmons, but he made me look really foolish. Hey, anytime anyone is .020 and drops nearly 20 mph to be dead-on, I'm probably not gonna beat 'em. Nice work Jerry!
I brought everything home, after some drama in Little Rock. There, I had two blowouts within an hour (of course I only had one spare). I got in touch with my local authority, Lonnie Grim, who directed me to a nearby Goodyear store, where I got some new shoes and went about my way. Thanks Lonnie!
I spent the following weekend at Huntsville Dragway testing some new tune-ups in the dragster and running Footbrake in the Vega. I didn't do much damage in the digger, but I did manage a Footbrake win on Saturday, and in the semi's on Sunday it was me, my buddy Adam Davis, and my buddy Adam Davis; so we split the money and went to dinner.
Huntsville had another race on Thursday, July 4th weekend, so I decided to stop in and race before I set out on another long northern tour that would begin at Mountain Park Dragway in Kentucky later that weekend. On Thu rsday night, I advanced to the quarterfinal round in both Pro and Footbrake before they hit curfew and were forced to finish eliminations the next morning. Although it put a kink in my travel plans, I couldn't leave a race that deep in eliminations, and I elected to spend one more night at home and finish the race in the morning. Surely, I figured, I could win at least one class and get some traveling money for the weekend.
That dream came to a screeching halt. My quarterfinal opponent in Pro put down a conservative .004 package that sent me packing. A round later Steve "Stone Cold" Stites put an end to my hopes in Footbrake and went on to race Adam in the final. I packed up and headed North disgusted with my efforts.
In Clay City, things got a little better. Bryan and I worked out an arrangement with my buddy Steve Foley to get the Stocker to Kentucky. He would get the car to Clay City, race it in Stock, then take my Vega home with him while I ventured on with the dragster and the stocker. Our pick of a driver turned out to be a good one: Steve won Stock on Saturday night, in his first Stock Eliminator appearance and his first time in the car!
It was the first win for the stocker, and I joked with Steve that hopefully he finally taught it how to win! For my part, I didn't fair too well. I was red second round in Top Dragster, and continued my trend in Hot Rod. I made it to the semi-finals20(which sounds better than the third round), only to be .01 on the tree and drop to dead-on and get slammed by J.J. Brock. Have I mentioned how much I like the Hot Rod class?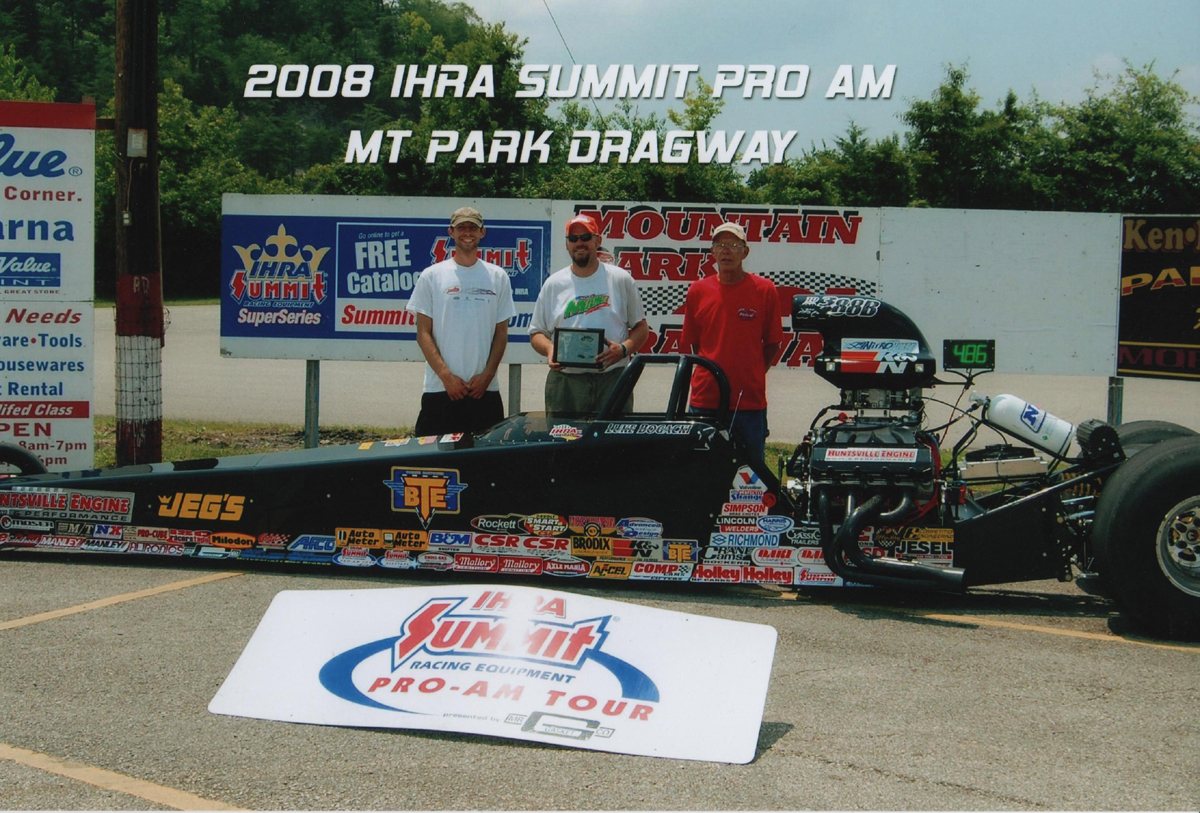 Sunday Steve went red first round in Stock. In Hot Rod, I faced Chip Johnson 2nd round, and (surprise, surprise), I'm .002 take .012 and in the way. I did manage to make the final in Top Dragster, only to completely Munson the finish line and get .002 behind, taking runner-up honors.
I spent the majority of the next week in the thriving metropolis that is Clay City, KY. Glamorous life on the road, huh? I washed everything I had with me. I serviced the cars. I played golf (with all my friends). The only human interaction I recall over the three day stretch was with the bartender at Applebees, who was missing a tooth.
I made my way thru beautiful, albeit desolate, West Virginia on the way to Pittsburgh Raceway Park for the IHRA Pro-Am event and Thunder Nationals the following weekend. On Friday, the opening day of the event, I made some really good runs to not advance past the third round. In Stock, I faced some fella named Dan Fletcher in round 2. There, I'm .012 and take .001. My beacon wasn't on. Someone said that guy has won a race or two, I don't know--he kicked the heck out of me that round through!
In Quick Rod, I run Mark Payne in round three, where I'm .016 and drop to .90. He's .005 package. Super.
Saturday things got better. I pretty much had myself behind the 8-ball in Stock. Saturday was my last division claim in the category, and I had to make the final round to take the lead in the division standings (which was likely to hold up for the championship). Seeing as I had yet to make a final round in Stock, that may seem like a tall order, but I was actually very confident. And the day started off great: I beat a who's who list of Stock Eliminator racers (including former world champions Craig Marshall and Nick Folk) to make the semi-final round, where I faced Wes McCracken. There, I hit the tree and took the advantage, .018 to .049. That's it--I'm the division champ! All I have to do is take less than .031, right? Any idiot can do that! This idiot couldn't. I got there .034 and lost a double-breakout by .003. After over a decade of competition, I like to think I'm pretty composed. Heck, I lose more than anyone in the country I think. But that one hurt. As soon as I crossed the line I knew I'd screwed up. Combine the frustration of the moment with the fact that I'd yet to do anything in the Stock class after all the money and work that Bryan and I had invested, and I was pretty upset. For the first time in as long as I can remember, I flung my helmet across the car in the shutdown area. I muttered several choice words as I got out of the Nova and into the dragster--I still had wor k to do in Quick Rod and no time to dwell on my poor performance.
It was then that I did something right. Rather than let my Stock screw up take me down, I used it to motivate me, and I actually drove really well in the last few rounds of Quick Rod and scored my first win in the new CSR Performance Products American Dragster. The win was nice, albeit bittersweet after my Stock debacle.
Sunday brought the Thunder Nationals, a Sportsman-only national event, and another good day for me. I removed the throttle stop from the dragster and entered Top Dragster, as I needed a national event claim in the class, but I fell in the first round to Patrick Forster. In Stock, however, I finally broke thru for my first win. What a great feeling! After all that we've been thru with the Stocker, it was such an exhilarating win and honestly, quite a relief to finally hoist the trophy. I had a really good run with Anthony Bertozzi in round three, which I was fortunate to win, and other than that I wasn't really challenged--but that didn't matter. We finally won Stock!!! Huge kudos to Bryan and Cassie, our engine builder Brian Rogers, our chassis builder Matt Tinnin, and the countless people who've helped with labor, parts, and advice along the way.
That week, I followed the Folk family and Bruce Thrift up to Niagara Falls, where we spent a few days in a really nice RV park and played the roll of tourists. I'm not much of a vacationer, but Niagara Falls in an awesome place. Outside of the Grand Canyon, it's the most breathtaking landmark I've ever seen. Plus, the nightlife was a lot of fun, and when you're running around with the Folk's and Bruce it's hard not to have a good time!
Our convoy left the RV park Thursday morning and we made our way to Grand Bend Motorplex for the IHRA Canadian Nationals. This was my first venture onto foreign soil to go racing (I had skipped across Canada years earlier on my way from Empire Dragway to Mid-Michigan Motorplex, but never even stopped for fuel). Although weather, timing system issues, and constant oil downs made the weekend a very long one, it ended up being another very good outing for me personally.
In Quick Rod, I fought a recurring bug with my throttle stop setup. I got so frustrated that I completely re-set the throttle stop for round one, and came out on the losing end of a 8.84 to 8.86 breakout as a result. In Stock, however, everything fell into place once again. I did a good job qualifying and got into a perfect spot on the ladder. From there, I escaped close calls in rounds one and two and got a bye run to the quarterfinals. That bye was the last round on Sunday night, before a thunderstorm sent us back to the trailers and forced a Monday morning finish. The next morning, I survived a double-breakout with the always tough Jim Harrington and a great race with Paula Cambria to reach the final round. Waiting there was Dan Fletcher. While I'm a very confident guy, and not the least bit intimidated by anyone on a racetrack, even I'm not ignorant enough to think that I'm supposed to win this race. Fletch has what, 51 NHRA national event wins (At that time he did, in the weeks since, he has run that total up to 53)? Plus probably a dozen in IHRA. He may be the most decorated Stock/Super Stock racer in the history of the sport.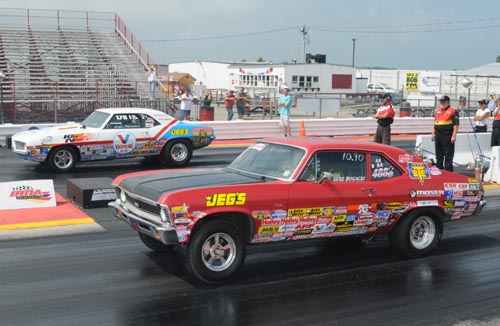 In the final, I left the line with a competitive .013 reaction, yanked down the blinder, and watched his tree fall red. Red! I had to look twice and reassure myself with a glance to the scoreboards. You try to run a race thru your mind in the staging lanes, and you try to prepare for every possible situation. But never once did it cross my mind that Fletcher would be red in the final. And as I rolled across the scales and filled out the contingency paperwork, and received congratulations from Dan himself, my accomplishments of the last two weeks began to sink in. After a year of beating my head against the wall in Stock Eliminator, I had suddenly won 12 straight rounds to capture back-to-back national event wins, a ton of money, and a brief stint as the national points leader! Oh Canada!!!
The exhilaration pretty much wore off while waiting in a two-hour line to cross the border back into the states--at that point I was just ready to be home. I made it to American Race Cars that even ing, where after dinner with Mark I enjoyed my victory champagne in the solitude of the trailer, and packed up to head to Alabama. The next morning, I left the trailer and it's contents at American, and headed South in the duallie truck. I made a stop in Kentucky to meet up with Foley and get the Mickey Thompson Vega. Steve had once again done me well, earning a Footbrake win in the Vega while I was up North. I finally got everything back home late Tuesday night. Woodville has never been a more welcome sight!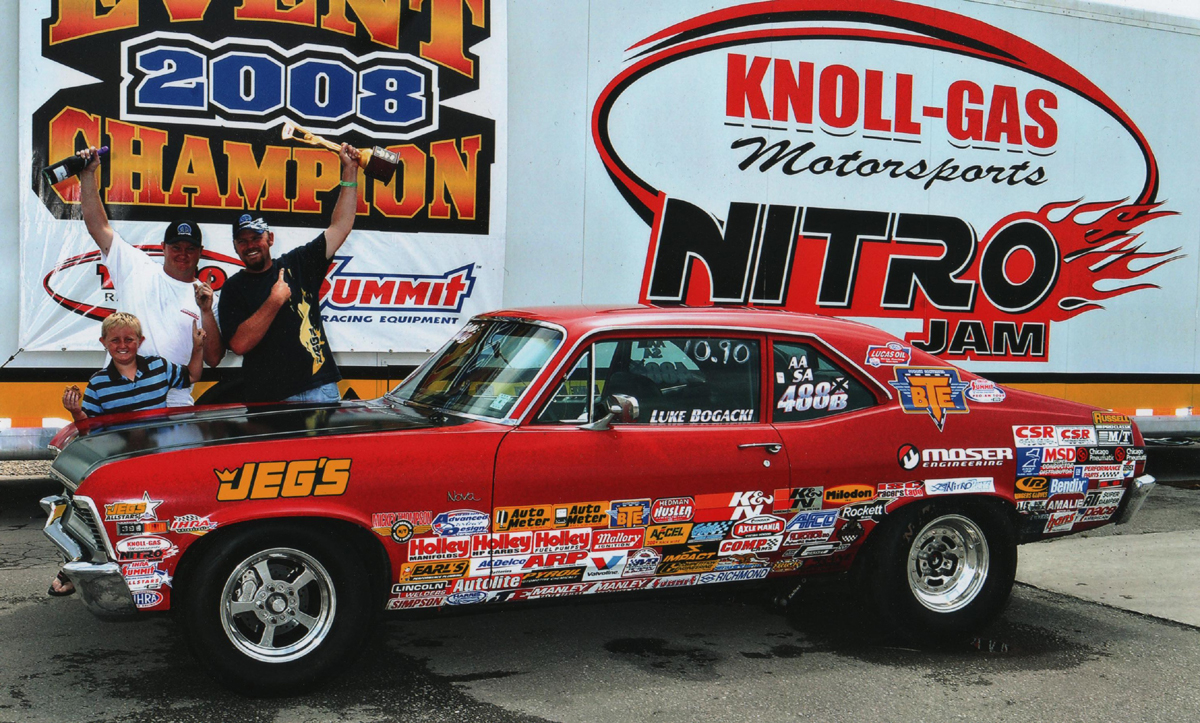 That weekend, I campaigned the Vega close to home with some success. I went to Baileyton "Good Time" Drag Strip Friday night for a $4,000-to-win event in both 6.0 and 7.0 Heads-Up. I don't know if these classes are popular throughout the country yet, but they've really taken off down here. The premise is simple: door cars of any kind (depending on the sanction/series/track rules) run on a heads-up (6.00 or 7.00--some tracks have an 8.00 and a 5.30, even a 4.70) index, with a .4 pro tree. The catch: no working throttle stops are allowed. You can spray all you want, you can spray on a timer, but you can't take power away electronically. It's a neat class, and it's a new twist to me, which always makes things interesting.
At any rate, with that type of money on the line I was all in. The crazy little Vega normally runs in the low 6.1 range, so I had some work to do to get her to the 6.0 index. That week, I ditched a 40 lb. weight bar, and an extra battery. I drained the 6 quarts of 10-30 oil I normally run, and replaced it with 4 ½ quarts of 5W-20 synthetic. I also replaced the 24" front runners I normally run for a set of 22.5's to make sure I could get a lamp.
My initial run at the "Good Time" provided a promising .379 red light (I was tickled I could be red and would have to run delay), and a 6.04. Throughout the evening I pulled every go fast string I could think of: I drained about 4 gallons of alcohol. I drained another ½ quart of oil. I removed the hood (which actually slowed the car down, so I put it back on), and eventually removed the decklid. I put the 24" tires back on too, figuring I needed the ET more than the RT. I guess I went a little too far, trying to make sure I could run 6.00 or faster. Second round, after taking a .07 advantage on the tree, the car surged from 200 feet on (guess I ran it a little low of fuel), and I ran a 6.20 for the loss. How embarrassing? I friggin ran out of alcohol! What an idiot…
I also ran my buddy Lucas Bendall's Chevy II in the 7.0 class, where I advanced to the semi-finals. That was interesting in itself: Lucas has the perfect car for 7.0. It's a neat little Chevy II that will get a light and runs 6.90's. On my first time shot, I was .408 and went 6.94. I ratchet strapped the 40 lb . weight bar out of the Vega to the passenger seat (yea, you read that right), and went .412 and 6.97--ready! Well, in the tight lane first round I was .399. They've got buybacks, no big deal. Except the car doesn't have a delay box. Lucas leaves on the converter and has never been red… Now what?
I proceed to run the loose lane for a couple rounds, where I'm pretty much .41 every time I stage. When I lose lane choice and have to run the tighter lane later in the race, I drop a bunch of air out of all 4 tires (to the minimum Lucas told me I could run in the rear, the minimum I thought was safe in the front), and I'm .400. Lucas got to the track (he was at a wedding reception. Okay, he was at his own wedding reception) in time for the last few rounds. In the semi's I once again lost lane choice and got put in the right. As I'm pulling out, Lucas is steadily dropping all 4 tires to who knows what air pressure. That part worked; I'm .410. But the loose nut behind the wheel screwed that up, as I got .001 behind to lose to Glenn Seymour's .428 and 7.01. Glenn went on to win, and then offered me his couch since it was 4 in the morning--pretty good deal all things considered!
The next day, I headed a little further South to Holiday Raceway, between Birmingham and Tuscaloosa. Despite hearing great things about the facility for years, I had never attended Holiday. That night they ha d a $5,000-to-win Pro event, so I figured it was time to make an appearance. All the reports were true, Holiday is a neat little place to race. After completely screwing up early in Footbrake (the .001 behind struck again; but this time I was .07 over my dial--not real impressive), I managed to make it deep into eliminations in the 5 grander. Charlie Hardy was putting on a show and had both his dragster and his doorcar in the semi-final round. I got lucky and put him out in the doorcar there on a real tight run, but then went red to him in his dragster in the final.
Nonetheless, a good night and a nice payday for the Vega. After making the 2 ½ hour journey back home, my head hit the pillow at nearly 5 a.m. for the second consecutive night, so needless to say, Sunday was pretty much a waste for me. I think I actually did what normal people do on Sundays. I ordered pizza, drank some beer, watched NASCAR and golf, and essentially never left the couch. It was great!
After a couple days at home it was time to head back North. I drove back to Toledo and picked up the trailer. With one national event remaining on my Stock points ledger, and a legitimate shot to win the championship, I elected not to run Stock at that weekends Northern Nationals. Instead, I recruited Steve Foley to once again wheel the Nova, and I set up a plan to drive Brian Horton's Malibu in Hot Rod (as well as my CSR Performance Dragster in Quick Rod). Steve and I picked up Brian's Malibu Thursday morning, and he followed me to Martin with it.
The weekend in Martin was once again an unqualified success. I broke something in the transmission in Brian's car in 2nd round of Hot Rod, but managed to win Quick Rod in the dragster. The win marked my fourth IHRA national event win of the season, in the third different class. Now I'm just rambling (and bragging), but I think it's pretty cool: At this point, Alcohol Funny Car competitor Laurie Cannister and I are the only racers who have won 4 IHRA national events this season. That's pretty incredible!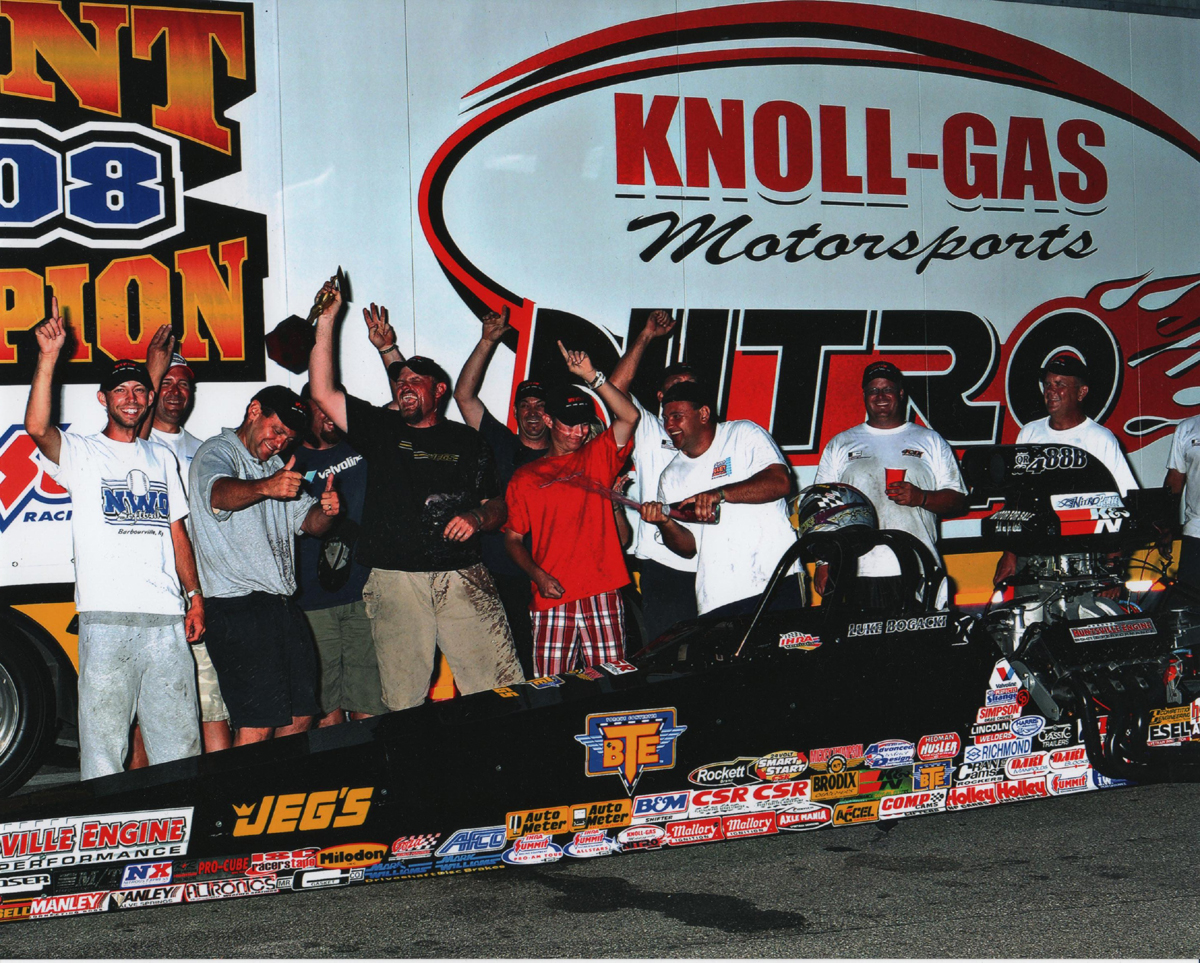 Steve put on an absolute clinic in the Stocker, culminated by an epic win over superstar bottom bulb racer "Slick" Rick Baehr in the semi-finals (Slick was .016, dead-on with a 2; Steve was .008 take .004), before falling to Nick Folk in another great race in the final. The good news was that Steve made the final. The bad news was that Nick won, which meant that he lapped me in the points standings and all but eliminated any hopes I had of claiming the national championship.
But, that end is out of my hands. The fact is; I won, Steve got a runner-up, my buddies Nick and Brian both won (Bfolk won S/R in addition to Nick's Stock win), which set into motion one of the greatest post race celebrations I've ever been a part of (second only to Gary Williams winning the million--the first time). Let's jus t say that Martin, MI doesn't have the same surroundings at Memphis, TN, or we could have all been in trouble.
fter pretty much a full day of recovery, Jason Lynch and I headed to Stanton Monday evening for the annual Huntsville Engine World Super Pro Challenge; a four-day bracket race featuring a $50,000-to-win main event. I've been to this event nearly every season since I started traveling in 1999. I love this race: the track is awesome, the competition is great, the Ledford family is always very hospitable and puts on a great race, and above all it's a great excuse to be in Michigan in August--when the weather is almost always gorgeous.
This season was no exception: high temperatures hovered in the upper 70's all weekend. We don't get that in August in Alabama! Unfortunately, the weather was pretty much the highlight of my weekend. I never got much rolling. When I did, something happened to derail me before we got deep into eliminations. In Friday's $10,000 race, Jason and I double-entered both cars, and had all four entries in for the 4th round. There, the converter in my car broke with Jason at the wheel. He won the round when his opponent broke out. I missed the round changing it, but got Jason back for round 5, where we still had 3 entries. We both got cracked in his car, but he managed to make the semi-final round in mine before falling to Vic Ellinger. Not a great day, but a little money to help pay the tab.
Saturday morning, the morning of the 50, I discovered a camshaft material issue had eaten up a lifter. Huntsville Engine's Todd Ewing was onhand and was the first one at the trailer to assist, but when he took a look at the cam and shook his head I knew I was done. We pushed it into the trailer, and I doubled with Bones in his dragster. With it, for just the second time all weekend, I really felt like I was in a groove. With the exception of one red light, I was no worse than .005 on the tree with it all day. In round 4, I was .004 and took .007... And looked at the wrong win light. Mike Bloomfield, Jr. laughed at my run with a .009 package of his own to send me packing.
I sat in the finish line bleachers, where I have become way too accustomed to WATCHING someone win $50,000 every year, and saw Mike Brumfield put on a very impressive display. The Indiana racer not only won the $50,000, but he had two entries in the semi-finals, where he elected to run himself. The only guy that beat Mike Brumfield Saturday night was… Mike Brumfield. My buddy Bfolk took runner-up honors and a big payday for the second consecutive week, although the party wasn't as great this time (or if it was, I wasn't a part of it). Sunday morning I actually drove out the gate before the $5,000-to-win race started, which might be a first for me. I was beat, I had been beat all weekend, I had a wounded whip, and I was rea dy to go home. By late Sunday evening, I was in Woodville once again.
Last weekend I actually enjoyed as close to a weekend off as I get. Friday afternoon, Whitney and I loaded up the Vega on an open trailer and set out for Holly Springs, MS. I dropped the trailer there, and headed for Tunica, where we met up with Steve "Stone Cold" Stites and his girlfriend Shonda, and Jeremy Jensen and his girlfriend Heather. While the Horseshoe took money from each of us, a good time was had by all and it was really nice to get away, even if it was only for a few hours. By the time we all crawled out of bed and made one last stop at the buffet, it was time to head back to the track and do some racing.
Somehow or another, despite one of my worst driving performances in recent memory, I managed to win the $2500 Pro race at Holly Springs Saturday night in the Vega. I hit the tree pretty well, but I drove the finish line badly and had a myriad of nagging mechanical problems, but somehow everything fell into place. Did I mention I drove badly? In the final, I had a .013 package: which is pretty impressive until I tell you that I took .050 stripe to be dead-on with a 7!
Sunday, after starting the day 0-5 (1st and 2nd round buybacks w/ two entries), I once again backed into the final round. Actually, I felt a lot better about Sunday's performance. The car was decent, I was decent at the stripe, and I wrecked the tree. Even in the losing rounds I was making better laps than the day before. I ended up running Bryan in the final; he was at the wheel of Austin Coil's Camaro. We had almost loaded up before we decided to swap cars and have a little fun in the final. There, he was .496 in the Vega, so I'm claiming victory and a double-up at Holly Springs!
And that brings us up to date. So far, I can't say it's been a bad season. My national event success has surpassed my wildest expectations. Plus, I've had decent success at the limited number of bracket events I've attended (limited, at least, in comparison to the past few seasons). When I set out to chase the IHRA tour, I devised a pretty ambitious schedule of chasing points in four separate sportsman categories (their double-divisional format makes that possible without having to run an IHRA event every weekend of the season). When I did, I set several goals for the season. They were lofty, and although I won't reach all of them, I believe they were realistic.
The main goal was to win a world championship. While that isn't completely out of the picture, it's highly unlikely. At this point, I still have a mathematical shot at the title in Top Dragster, Quick Rod, and Stock Eliminator. But in all three I'd have to win my remaining events and have some help from the other competitors atop the standings. I had hoped to win two division cham pionships, so I could have two gold cards and race for free in 2009. I have a pretty good shot at the Division 3 championship in Top Dragster: I have a lead now, and still have one divisional weekend remaining. I fell short of the division 4 title in Stock and in Quick Rod. My score in Hot Rod is miserable, although as I've said, I feel like I've made very few mistakes in the class. Right now I'm leading the Division 2 points in that class, but it's only because I've been to more races than anyone else. The Division title may be a possibility, but I'll have to show out at my last divisional in South Carolina, and hope for some help to make it happen.
I'll almost certainly finish in the national top ten (and be eligible for the Summit All-Star Shootout) in Top Dragster, Quick Rod, and Stock, and I could sneak in there in Hot Rod as well if I can get something going in that class. Having a single digit in all four classes would be a major achievement in my book. Plus, I'm equally certain that my score will qualify me for the Moser Axle Mania Shootout in both Top Dragster and Quick Rod--and again I could sneak in with the Vega with a strong showing at the last divisional. Even if that doesn't happen, having two dragsters in that 32-car, $22,500-to-win shootout would be very cool.
I guess that's about it. This weekend I'm back on the IHRA tour in Tulsa, OK. I'm flying out and driving for a couple of my buddies. Next weekend, I'll haul my junk to Baton Rouge, LA for the a Sportsman National event to get my last Top Dragster claim. The rest of the schedule is up in the air, but I'd like to make NHRA events in Memphis, Virginia, and possibly the new track in Charlotte, plus the last IHRA national in Rockingham. Then it's off to Florida for the winter series before I hang it up for 2008.
Thanks again for reading, and as always I urge you to support my marketing partners anytime you have a need for quality high performance products. Those partners include CSR Performance Products, Mickey Thompson Tires, Bill Taylor Engineering, JEGS, Huntsville Engine & Performance, American Race Cars, Milodon, Hedman Hedders, Advanced Product Design, Auto Meter, Nitroplate, Auto Meter, B&M, Figspeed.com, AFCO, Rockett Brand Race Fuel, ISC Racers Tape, Dixie Racing Products, K&N Filters, Moser Engineering, Nitrous Express, K&R Performance Engineering, TD Performance Products, Brodix Cylinder Heads, and Goza Racing Products.