Head Instructor - Luke Bogacki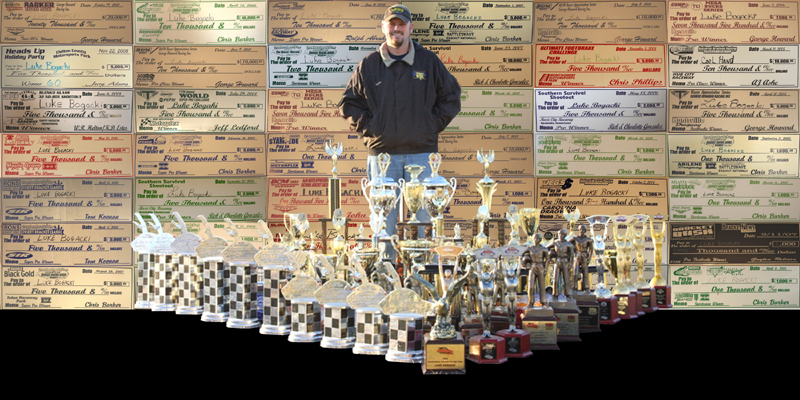 Luke Bogacki
Your head instructor Luke Bogacki has enjoyed a lifetime of racing experience in his 33 years. As the son of an avid motorsports enthusiast, Luke was essentially raised at the race track. Over the course of his 30-plus year racing career, Luke's father Gary competed in classes ranging from Super Modified to Top Alcohol Funny Car.
Born in Southern California in 1981, Luke frequented local bracket facilities with his father before a job opportunity moved the Bogacki family to North Texas in 1988. Once settled, Gary became a constant fixture on the local bracket scene, with young Luke constantly close by his side. It is that region and that era of competition that Luke credits with building the foundation of racing knowledge and the desire to compete that has fueled his lifelong passion for sportsman drag racing.
"At that time, the early '90's, my Dad was racing every weekend at Texas Raceway in Kennedale, TX, which was only about 5 miles from our house. Of course I didn't realize it at the time, but in that era, that had to be one of, if not the most competitive weekly bracket facilities in the country. On any given Saturday night, we'd have Scotty and Edmond Richardson, Jeff and Jeremy Hefler, Tommy Phillips, Frank Kohutek, James Paul, Jeff and Robby Lopez, and more entered in competition. Just watching those racers, then eventually getting to know them and learn from them firsthand; that along with the education from my father was instrumental to me in learning the sport."
In 1993, when NHRA introduced the Junior Drag Racing League, Gary built twelve-year-old Luke one of the first Junior Dragsters in the area. In his first competition appearance, young Bogacki proved to be a natural of sorts, besting an 8-car field to win the first ever Junior Dragster event at Texas Raceway. That season, he went on to win over a dozen other events, highlighted by a victory in his age group at the Division 4 E.T. Finals, earning him the title of NHRA Division 4 Champion.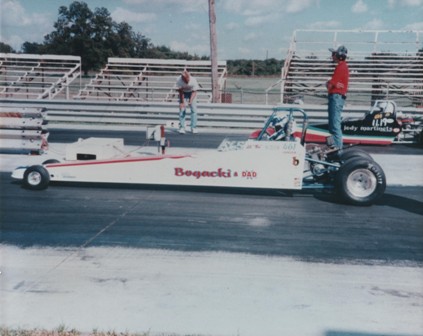 Luke's Junior Dragster, 1993
Bogacki continued in the Junior Dragster ranks in 1994, winning several more events before hanging up his helmet for a couple of a seasons. He spent much of 1995 working at Texas Raceway, saving money for his first full-size race car.
In January of 1996, Bogacki purchased a '73 Nova from a local racer, and at fourteen years of age began to occasionally race at some of the outlaw tracks in the area. In another display of uncanny "natural" talent, Bogacki drove to the winners circle at Cedar Creek Dragway in his full-size bracket debut. He went on to win seven races that fall, before applying for and receiving a Texas Hardship Drivers License on his fifteenth birthday.
As a high school student in 1997, Bogacki got more seat time in his venerable Nova than many competitors do in a decade. Racing five nights a week more often than not, the sixteen year old racked up nearly 900 runs over the course of the season, and picked up a whopping 24 event victories.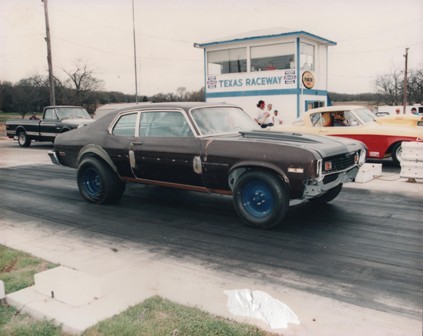 Luke cut his teeth at the wheel of this '73 Nova
"I'll always look back on that season as probably the most memorable and most fun I've ever had racing. I was 16. I'd just got my license. And all I wanted to do was race. Dad had helped me make my old Nova into a real reliable piece. It was god-awful ugly: mostly factory brown, but we'd torched out the door beams, and put a bigger tire under it that didn't really fit, so we'd cut out the fenders. So that was all bare metal. Then to top it off, the wheels and tires for it were an old set off my Dad's Vega that he'd painted blue.  That really went well with brown and rust! I was somewhere and couldn't make the bump for Super Pro, so I ditched the front bumper. It never found it's way back on the car. It was rough for sure, but it was the perfect learning tool. I made a million runs that year"
"The car ran 7.80's (1/8th mile) on pump gas, and I just ran the wheels off of it. Texas Raceway had a test 'n' tune on Wednesday nights with a Jackpot gamblers race. I'd run it just about every week; it usually only paid $100-to-win or so, but I just wanted to be there. Thursday nights that season they had a High School program, which I ran every week and won the championship. Friday's, I'd usually make the 2 ½ hour drive to Paris Dragstrip to run their bracket program. Saturday was points night at Kennedale, then Sunday I'd drove a couple hours South and race at Temple Academy Dragway. At every one, I'd run as many classes as the car would fit into and I could afford!"
In 1998, Gary decided it was time to give Luke a shot in his '32 Bantam Altered. He earned his Super Comp license, and set out on the NHRA Divisional tour, running Super Comp in the altered and Stock Eliminator in a myriad of entries throughout the season, driving for the likes of Jeremy Hefler, Tommy Phillips, and the Emmons Bros before the Bogacki's purchased a Chevelle Station Wagon Stocker towards season's end. After a brief learning curve, Bogacki excelled in all facets of competition. He drove Hefler's Stocker to a pair of runner-up finishes on the NHRA trail, and finished the year 5th in the Division 4 standings. He drove the altered to his first big dollar victory, a $5,000 triumph at Texas Raceway that June, all the while racking up wins in his familiar Nova. That Labor Day, 17-year-old Bogacki had a weekend to remember at the annual "Labor Day Landslide" contested at his home track, Texas Raceway. There, he drove his Nova to the No Electronics crown on both Saturday and Sunday, before wheeling the Altered to a victory in a 32-car shootout for a new Cameron Race Cars dragster on Monday.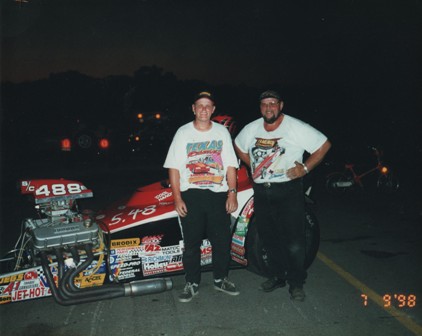 Luke & Gary Bogacki following Luke's first $5,000 victory, July '98
That winter, the family assembled the new dragster, and Bogacki set out on the local bracket trail. He won the American Drag News Super Pro championship in '99, and won the dragster shootout at Texas Raceway's Labor Day Landslide for a second consecutive season. He also made his first "blip" on the national radar by claiming a $20,000 windfall on the final day of the Million Dollar Race in Montgomery, AL. That victory kicked off a season-ending 29-round winning streak in the dragster that included a double victory (Super Pro & Quick 32) at Texas Raceway and a $5,000 triumph at Temple Academy Dragway.
Luke then debuted his second "free" dragster the next season, along with a '76 Nova purchased from Darrell Goza, and set out to chase the newly formed IHRA Division 4 Schedule. That season he earned the IHRA Division 4 Quick Rod Championship, and finished 3rd in the divisional Hot Rod points.
2001 proved to be Bogacki's most successful yet on the racetrack, while proving devastating off of it. That season, he racked up seven $10,000 or larger victories throughout the Southeast en route to the B&M Series Division 4 championship. But in August, his world came crashing down as his father and best friend succumbed to a battle with cancer.
Undeterred, Bogacki made his way to the annual Million Dollar Race in Atlanta, just weeks after his fathers passing, and had one of his most memorable outings. On the Friday portion of the event, Bogacki not only won the $20,000 main event, but also captured the Mullis All-Star Shootout title in a separate race for a Mullis Dragster Chassis, running the table for 14 unbeaten rounds against the best racers in the country.
"That was a really special weekend. Mom and I went out there, obviously with a lot of confusion in our lives and very heavy hearts. Racing was what brought Dad and I together, and when I say we were best friends, we were. Sure, we had the normal father-son spats, but we were tight. To some, it probably seems strange that I got back to racing so quickly, but that's what he would have wanted. To see me succeed in this sport, I think that was very fulfilling for him. I watched a Sports Century episode on ESPN about the Petty family, and they focused on the death of Kyle's son Adam in a racing incident. They interviewed Richard Petty, and asked him about getting the team back on the race track. He simply replied 'That's who we are. That's what we do. The Petty's race.' That, in essence, was how I felt about getting back on the track myself."
In 2002 Bogacki, a 21-year-old college student, laid out an ambitious travel schedule that allowed him to chase the IHRA national points series in addition to several big bracket events across the nation. He claimed the IHRA Division 4 titles in both Quick Rod and Hot Rod, and posted a top ten national finish in both categories (9th in Q/R and 5th in H/R). Remarkably, he also won the Southern Super Tens Bracket Series points championship on the strength of several late round appearances.
Luke graduated Northwood University in May, 2003 with a bachelors degree in Automotive Aftermarket Business Management. Upon graduation, he took a job with Huntsville Engine and Performance and relocated his racing operation to North Alabama. His 2003 racing season was highlighted by his first national event win, a Hot Rod title at the AC Delco Nationals in Virginia. That weekend, he also earned runner-up honors in the annual Moser Axle Mania Sportsman Shootout. While those feats would be the highlight of most racers season, Bogacki's success was made that much more remarkable by the fact that he had never sat in either of the two machines he drove to the final round.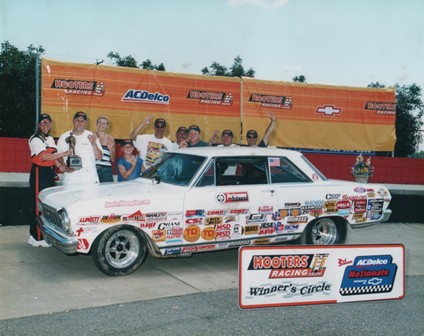 Bogacki & friends after his first national event victory in 2003
"That Virginia race was a lot of fun. I was actually in the process of moving to Alabama at the time, but I needed to go to Virginia because I had qualified for the Moser Race in two cars. I had sold the Nova, and all I had at the time was a dragster. So, I borrowed Andy Anderson's Chevy II to run in Hot Rod, but it didn't have Moser axles, so I had to find another car to run in the shootout. I ended up in Mike Bloomfield's Top Sportsman pickup truck. I'd never been fast in a doorcar before, but it drove like a Cadillac going 5.1's in the eighth. I ended up not winning a round in my dragster that weekend, but I won in Andy's car and was runner-up in the truck! Who'd have seen that coming?"
In 2004 Bogacki hit the Southeastern bracket racing scene with a vengeance. At the opening Tenn-Tuck event of the season, he won both $10,000 main events of the rain-shortened event.  Four months later at the July Tenn-Tuck event, he won the make-up race from the March rain-out, making him the only driver to date to sweep a Tenn-Tuck weekend. He went on to runaway with the Tenn-Tuck points championship, and added weekend points championships at the Montgomery Motorsports Park "Fistful of Dollars" event, and Norwalk Raceway Park's "Ten Grand Nationals."

Bogacki on the finish line, 2005
In 2005, Bogacki walked away from his job at Huntsville Engine to pursue racing full time. He chased the DragRaceResults.com Bracket Series in 2005 and 2006, earning the Division 2 Sportsman crown in '05, and the Division 2 Super Pro and Sportsman titles in '06. That season, he battled eventual national champion Rustin Mayse to the wire as the two squared off for the complete turn-key Race Tech dragster awarded to the series' champion. The pair would end the season tied for the championship, with Mayse claiming the title on the first tie-breaker.
Luke used the heart-breaking finish to the 2006 campaign as motivation, starting '07 with an unstoppable run in the DragRaceResults.com Bracket Series that included a whopping 9 final round appearances in the series' first three events. He was not seriously challenged all season, and went on to win the DragRaceResults.com Bracket Series World Championship in both Super Pro and Sportsman. He added a runner-up finish in the inaugural World Footbrake Challenge $50,000-to-win main event, along with numerous $5,000 and $10,000 bracket victories across the country.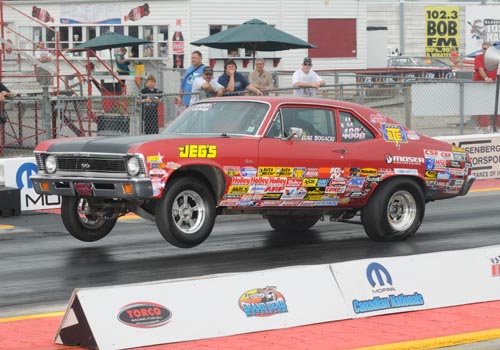 In 2008 Bogacki drove Bryan Robinson's BTE Nova to back-to-back IHRA national event triumphs en route to a 2nd place national finish
For 2008, Bogacki's focus shifted back to the IHRA scene, as he made his first serious run at national points since 2002. He and longtime friend Bryan Robinson partnered on a Stock Eliminator entry, and Bogacki devised an ambitious schedule that allowed him to compete for championship points in four categories. By season's end, he picked up four national event titles (2 in Stock, 1 in Quick Rod and 1 in Top Dragster), and his fourth IHRA Division Championship (Division 3 Top Dragster). He also became the first driver in IHRA history to finish in the national top ten in three different categories, finishing 2nd in Stock, 4th in Top Dragster, and 4th in Quick Rod. He was voted IHRA Sportsman Driver of the Year for his efforts.
In 2009, Bogacki made a triumphant return to NHRA competition, earning his first two NHRA National Event crowns in Super Comp.  In addition, he added a pair of IHRA National Event wins in Quick Rod.  He also won the Summit All-Stars event in Top Dragster.  On the bracket scene, Bogacki picked up $10,000 victories at some of the most prestigious events in the nation: The World Footbrake Challenge, the Tenn-Tuck Triple Crown Series, and the Bradenton 5-Day event.
Bogacki finished the 2010 season as the #2 finisher in NHRA Super Comp.  He also earned the Division 2 Championship in both Super Comp and Stock Eliminator.
In 2010, Bogacki made his first run at the NHRA Lucas Oil National Championship, competing in Super Comp and Stock Eliminator.  He fell just short of the ultimate prize, with a heartbreaking runner-up finish in the Super Comp national chase.  He also finished the season ranked 6th in NHRA Stock Eliminator competition.  He compiled an incredible seven LODRS final round appearances to finish the season as the NHRA Division 2 champion in both Super Comp and Stock Eliminator.  Bogacki was voted NHRA Division 2 Sportsman Driver of the Year.  In addition to his NHRA success, Luke continued to post strong performances in the big dollar bracket arena.  There, he earned $10,000 victories at the Ultimate 64 Shootout, the Bradenton 5-Day event, and the Tenn-Tuck Triple Crown.  He also took runner-up honors in the $50,000-to-win main event at the Ultimate 64 Shootout and earned a pair of $5,000 wins on the same day, doubling up with victories in both Super Pro and No Box at a Southern Survival Series event.
The 2011 season provided Luke with a break from NHRA competition, as he focused mainly on the big dollar bracket ranks.  His most memorable performance of the season wasn't a win at all, but rather a runner-up at his home track, I-57 Dragstrip.  On a hot August night, he fell in the final round to his fiance (now wife) Jessica Camden.  Luke called the evening his greatest racing memory.  He closed his season with a pair of $5,000 triumphs at the prestigious Palm Beach International 5-Day Bracket Championships.
The 2012 season saw Bogacki return to NHRA competition, driving his familiar Super Comp dragster in addition to a new '63 Corvette Super Gas entry.  In his first national event appearance with the Super Gas machine, Bogacki bested eventual world champion Jeff Lopez to earn the NHRA O'Reilly Spring Nationals title.  He also scored a Super Comp crown at the NHRA Big O Tires Nationals in Las Vegas, and nearly doubled at the Lucas Oil Nationals in Brainerd, MN.  There, he drove to his second Super Gas victory of the season, and took runner-up honors in Super Comp.  He added a Super Gas victory at the divisional level to finish the season ranked 3rd in both Super Comp and Super Gas in the NHRA Lucas Oil national points chase.  With the added emphasis on NHRA competition, Bogacki ran a very limited schedule of bracket events in 2012, but made the most of them: he drove his Vega to runner-up honors in the $50,000 main event of the Great American Bracket Race in Belle Rose, LA. 
2013 brought arguably Bogacki's best season on the race track and off. In April, Luke and his wife Jessica welcomed their first born son, Gary (named after Luke's father) into the world. On the track, Luke focused on a more limited schedule featuring NHRA events almost exclusively. He drove to a national event victory and four divisional final rounds in Super Comp to claim his first NHRA World Championship. In addition, he claimed the NHRA Division 7 Super Comp crown, his fourth NHRA division title. As if that weren't enough, he also added 4 NHRA final rounds in the Super Gas category.
What would Luke do for an encore? How about switching the #1 placard from his K&N Filters backed dragster to his Racing RV's sponsored Super Gas Corvette? In 2014, Bogacki turned in one of the more dominant performance in NHRA Lucas Oil Series history, winning the Super Gas national crown with an astounding 731 point total (the highest in the history of the category). His season included three NHRA Lucas Oil Series victories, along with national event triumphs in Chicago and Topeka. He also claimed the Division 3 Super Gas crown, the 5th division championship of his career (in the 4th different geographic division.
Bogacki, now 33, resides with his wife Jessica and their son Gary in their Carterville, IL home. He is a professional drag racer, competing throughout the country in a variety of competition vehicles and classes. In his twenty year racing career, Luke Bogacki has amassed over 250 event victories and more than $1,000,000 in prize money. He has proven throughout his career to be versatile and capable of winning in virtually any sportsman drag racing class or event. Moreover, he is a lifetime student of the game, constantly learning and honing his craft, focusing on the intricacies of game strategy and preparation. He developed ThisIsBracketRacing.com to share these concepts and strategies with racers throughout the world.